It was February 2012 and Maria was just starting a new job at rue21. One of the first faces she met was that of the friendly (and handsome) IT Help Desk employee – enter Logan. Of course, it didn't take Maria more than one month to encounter a virus, so Logan set her up with a loaner laptop and gave her his personal number in case she had any questions over the weekend – smooth move, Logan.
If you know Maria, you know she is not working over the weekend (unless asked). By the end of the weekend, texts were exchanged and Monday seemed a lot more exciting to both of them.
Maria's job involved many trips to the mailroom and luckily, Logan's desk was right on the way. After many months of small talk, trips to the water cooler and fake computer questions a first date was set. Maria and Logan had dinner at Walnut Grill in Cranberry after work one evening – picture the largest round booth possible and each of them sitting as far from each other as they could without falling off the ends.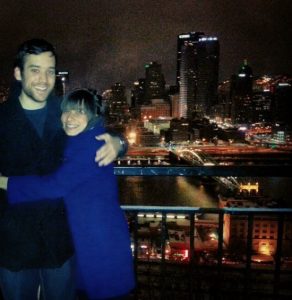 Fast forward through an awkward handshake at the end of their first date, more small talk, trips to the water cooler and some amazing 2nd, 3rd and 10th dates – Logan finally asked Maria to make it official on New Years Eve 2012. Although it didn't become official until December 31st, Logan said he knew on the first date Maria was the one for him.
Since then, Maria and Logan made some fun memories, created a home together in Lawrenceville and adopted a (sometimes) lovable dog named Wilson.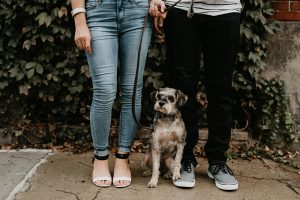 Traveling and exploring exciting places together, trying new restaurants and breweries around Pittsburgh and spending time with Wilson on family walks are some of their favorite things to do.
They can't wait to celebrate becoming an official family with you!
#meetthemarchiones